i have an iphone now, and haven't regret it one single second (yet). the 1st. amazing thing is that i'm having
this song
as my ringtone ♥, who can't fall in love with a thing that is able to do that?! ... my favourite apps so far: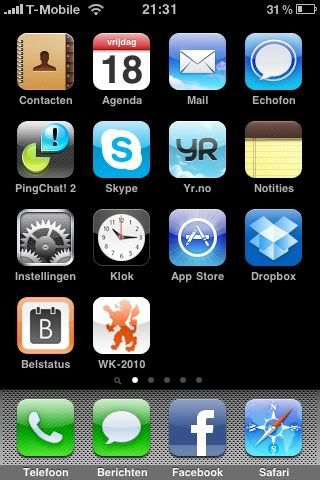 screen 1
:
pingchat! (sending free messages to other ping!-users /
send me your ping! name
), dropbox (to simply put files in a folder which is both on my iphone and macbook), belstatus (to check how many minutes / messages you have left) and wk-2010 (soccer world championships).
screen 2
:
kranten (papers from all over the world), ns reisplanner (dutch trains), 9292ov (dutch public transport planner), atm hunter (find the closest cash mashine).
screen 3
:
shazam (recognizes songs that are playing), tunewiki (to get the lyrics by the music you're playing, 3voor12 luisterpaal (listening to brand new cd's for free), albert heijn (a dutch supermarket, with the "bonus", recipe's, etc), pathé (dutch cinema - what's playing in which city and when, you can watch trailers and even reservate tickets!), fokke & sukke (daily comics), emoji free (makes it possible to use smileys ;D), whatthefont (take a picture and it tells you what font is used).
screen 4 (games)
:
tap tap revenge (kind of guitar hero), fling! free (puzzle game with tapping fluffy animals off the edge of the screen), fruited lite (kind of bejeweled but with fruits and quite annoying animals), imbecile test (simply awesome), paper toss (throwing paper into the garbage bin), scoops (collecting ice cream), doodle jump (super cute drawn jumping game).
what are your favourite applications? (and other tips?)